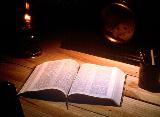 Revelation 22:18-19


18 For I testify unto every man that heareth the words of the prophecy of this book, If any man shall add unto these things, God shall add unto him the plagues that are written in this book: 19 And if any man shall take away from the words of the book of this prophecy, God shall take away his part out of the book of life, and out of the holy city, and from the things which are written in this book.
Just as we write software code for computers, so God has provided code for us to load ourselves up with. Well written and carefully debugged code enables a computer to be a very handy tool. Badly written code will cause the computer to "crash", resulting in the loss of valuable work and time.
Satan has saturated the world with false bibles and false doctrine, resulting in the world being in "gross darkness". This is a very serious issue, because if you are operating on false doctrine you will "crash" and your soul will come to a "dead end".
Is it any wonder that Jesus warned that "

one jot or one tittle shall in no wise pass from the law

", and pronounced a woe on anyone who should

add unto

or

take away from

the words of His book.
On the other hand, if you receive the unadulterated "software" into your heart and mind, and live by it, you will grow strong in the Lord, and He will set before you an open door.

In

Matthew 7:24-25

Jesus says:-


24 Therefore whosoever heareth these sayings of mine, and doeth them, I will liken him unto a wise man, which built his house upon a rock: 25 And the rain descended, and the floods came, and the winds blew, and beat upon that house; and it fell not: for it was founded upon a rock.





1 Corinthians 2:9




9 But as it is written, Eye hath not seen, nor ear heard, neither have entered into the heart of man, the things which God hath prepared for them that love him.
Isaiah 60:1-2


1 Arise, shine; for thy light is come, and the glory of the LORD is risen upon thee. 2 For, behold, the darkness shall cover the earth,and gross darkness the people: but the LORD shall arise upon thee, and his glory shall be seen upon thee.